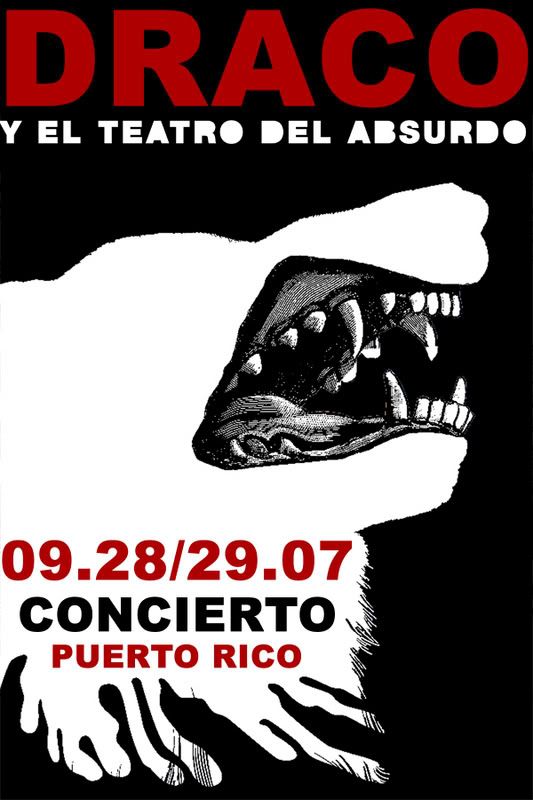 I went to the first of two scheduled concerts last night at the Choliseo (
Coliseo de Puerto Rico José Miguel Agrelot
) with my best friend,
Talí
, his girlfriend, and his brother,
Jehú
. I thought we had really good seats, sitting in the first row (Row A) of section 102L. From where we were sitting (or standing!), we could see the left side and center-stage. There were what looked to be 160 skulls placed in 160 cubbyholes as the backdrop! The left "wall" was decorated with various pictures (of Che, Einstein, and Draco himself), tapestries, masks, and the flag of Lares; several table lamps were placed across the stage. Although scheduled for 8:30pm, it wasn't until 9:30pm that the lights were dimmed and the musicians stepped out on stage. Everyone was wearing black. Even the backup singers were decked out in black monk's robes and Halloween-y face paint!
The video displays presented a countdown, which led to the evening's first song, "Bosque de los números." I don't remember all of the songs performed (or in which order): "Todo es vino," "Desnudo," "Luchar por ella," "Hasta la victoria siempre," "Mad Love," "Más y más," "Llanto subterráneo," "Madre tierra," "Vagabundo," "Penélope," "Brujería," "Vértigo," "Cruzando Puertas," and "Mama." He played a couple of covers: "Roadhouse Blues" from The Doors, "Rock and Roll" by Led Zeppelin, and even Ricky Martin's "Livin' la Vida Loca" ... because everything is possible
en el teatro del absurdo
-- Um, is it still a "cover" when it's your song / lyrics sung by another artist? :)
Here are two clips of the covers:
During the intermission, Draco stayed on stage with guitarist Rusty Anderson and attempted a couple of songs acoustically. (I say attempt because he couldn't remember the lyrics to "Cruzando puertas" !!!) I was able to record "Blanca mujer," albeit very poorly: